Published on January 22, 2020 by Clémentine
-
Updated on July 27, 2020
Gaëtan has been a UX/UI designer for three years at Kosmos. He works upstream in the design of web projects and applications. His role is to analyse the needs of users, to propose a user experience, prototypes or models but also to contribute to their graphical integration.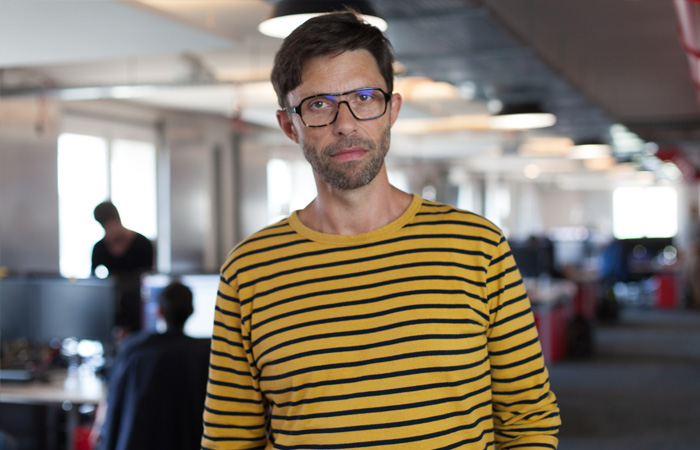 Hi Gaetan! Can you tell us about you career?

I received a tradition training as a graphic artist (Indian ink, typography, etc.) at a time when the computing tools still didn't exist in the design field.

Ver quickly, I trained myself in the use of digital tools that came on the scene just when I finished my studies. I joined a company specialised in the design and development of digital solutions and worked there for about ten years as a designer and team leader. Following this, I turned my activities towards integration and development. This is where I really discovered the interest in this profession. I managed to transform what I wanted to do by my knowledge of coding. After having managed my own web agency for several years, I was invited to join Kosmos. I know work on design subjects in the broad sense (user experience, interface design, marketing, graphical integration) for different projects, applications, web services but also for subjects with communication and marketing issues.

What made you want to join Kosmos?

The area of education is an important element. The project offered was in this area. And, I discovered a company where I could bring some of my culture of design and innovation. It is a company that gives me confidence and where I am listened to.
Can you tell us what your day is like as a UX UI designer as if you had to explain your job to your grandmother?

Every day is never the same at Kosmos. Some mornings, I arrive at the office and I have to cerate something, find ideas, be creative. Other times, I have to go to meet users, to lead workshops, to discover the profession or the practices, to analyse data and to offer answers to a problem that our users encounter.

In summary, when I take up a subject, I must discover the profession of the people I meet, get to better understand the daily activities of the many different jobs in the world of education (Deputy principals, teachers, students, etc.), to meet the different needs identified and to save their energy and time.

What do you like most about your job?

I like to dream up solutions which make life more simple for our users and our clients. Knowing that what you produce daily has real added value for them.

According to you, what are the qualities required for doing this job?

Listening is the key element. In the sense of understanding our public, of listening to them, questioning, knowing what to take away from the discussion you have with them.

Design is first of all, identifying the issue and then responding to it. To do this, you have to be creative.

You must also know how to convince. When you produce a model or a prototype, the client or the person who is going to buy this new service, has to be reassured and have our users understand that we are going in the right direction.

Is their a creation or a product that you are proud of?

Have you had positive feedback from the field? When users say that what you have produced meets their needs and helps their daily activities, this is a real value.

What are your key reference in your area?

They are very varied. Inspiration is everywhere in design. My visual culture comes from many media (internet, cinema, publishing, illustration, fashion, etc.). It is without limit. My role as visiting lecturer in the Nantes School of Design also nourishes my visual curiosity.

What pleases you most at Kosmos?

The town centre premises. The diversity of what I do. Working and discussing with passionate employees that well know their areas and are ready to listen.

If you had not taken this profession, what would you have done?

According to my mother, I would have become a great pianist and for my grandfather, a cook I think.

Design was obvious to me as of college. I have had the chance to encounter persons who practice this profession and that pleased me very quickly.

Can you tell me 2 truths and 1 lie about yourself?

I am never satisfied.

I am patient.

I am passionate by my profession.

A desire or an idea in your bucket list?

All you need is love! Why not leave for the woods for a while and live a bit.